2020-01-11 02:32:49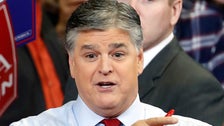 Fox News host Sean Hannity on Friday threatened to give out phone numbers as he warned Republican senators against allowing witnesses to be called during President Donald Trump's Senate impeachment trial.
"They now get to present their case to all of you Republican senators, don't make me start giving out the phone number," he warned on his radio show in audio published online by progressive watchdog group Media Matters for America.
It's unclear exactly what phone number Hannity was threatening to release.
You need to understand here that their sole Constitutional role is they get to impeach. They have decided in their insanity and psychosis and rage to abuse that power and bring up what is a non-case. And just politicize this because they're just obsessed and Nancy Pelosi needed to appease the radicalism rising within her base. That is not what your role is in the US senate. Your role is also very very clear, you are to run the trial. That's it. That's what your job is. It is not your job, at all, to redo their corrupt investigation.
House Speaker Nancy Pelosi (D-Calif.) held off from transmitting the two articles of impeachment (abuse of power and obstruction of Congress) to the Senate amid fears of Republican bias in the trial and the White House's blocking of key witnesses from testifying. On Friday, she announced the articles would be transmitted next week.
Check out the audio here:
Calling all HuffPost superfans!
Sign up for membership to become a founding member and help shape HuffPost's next chapter